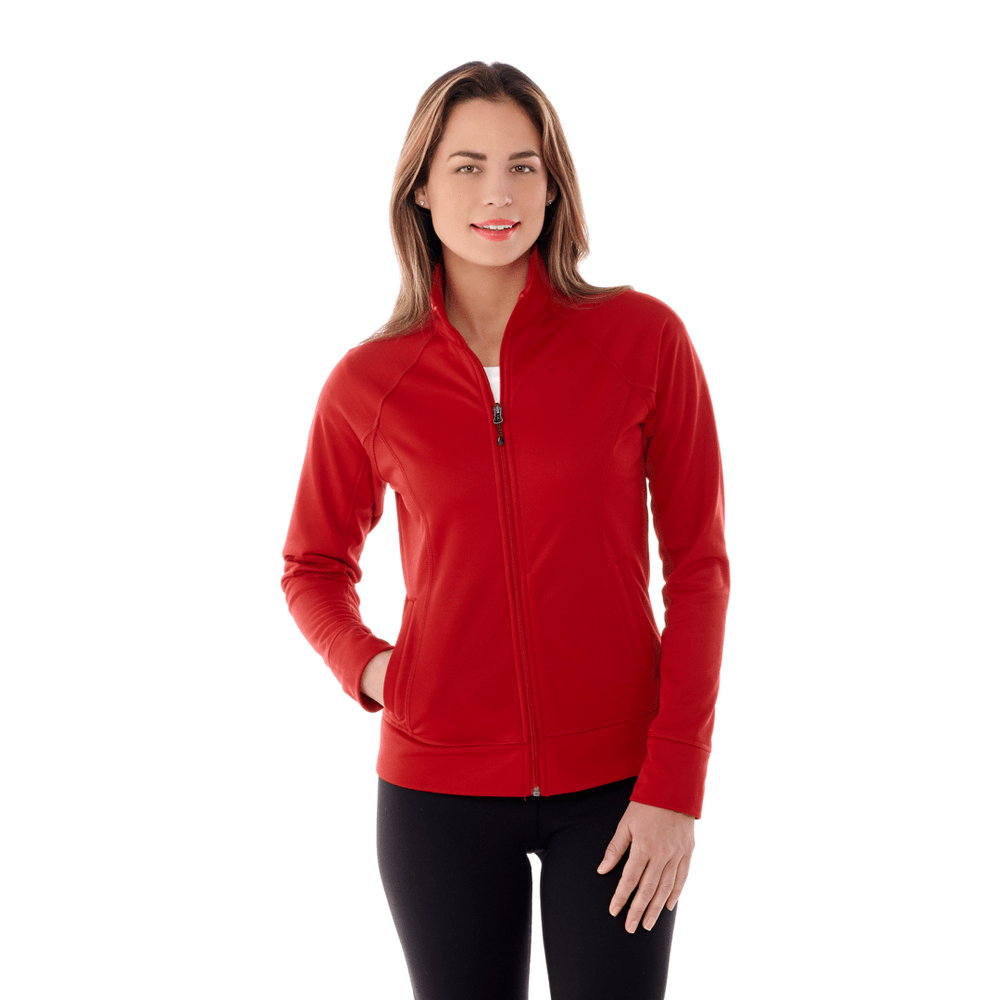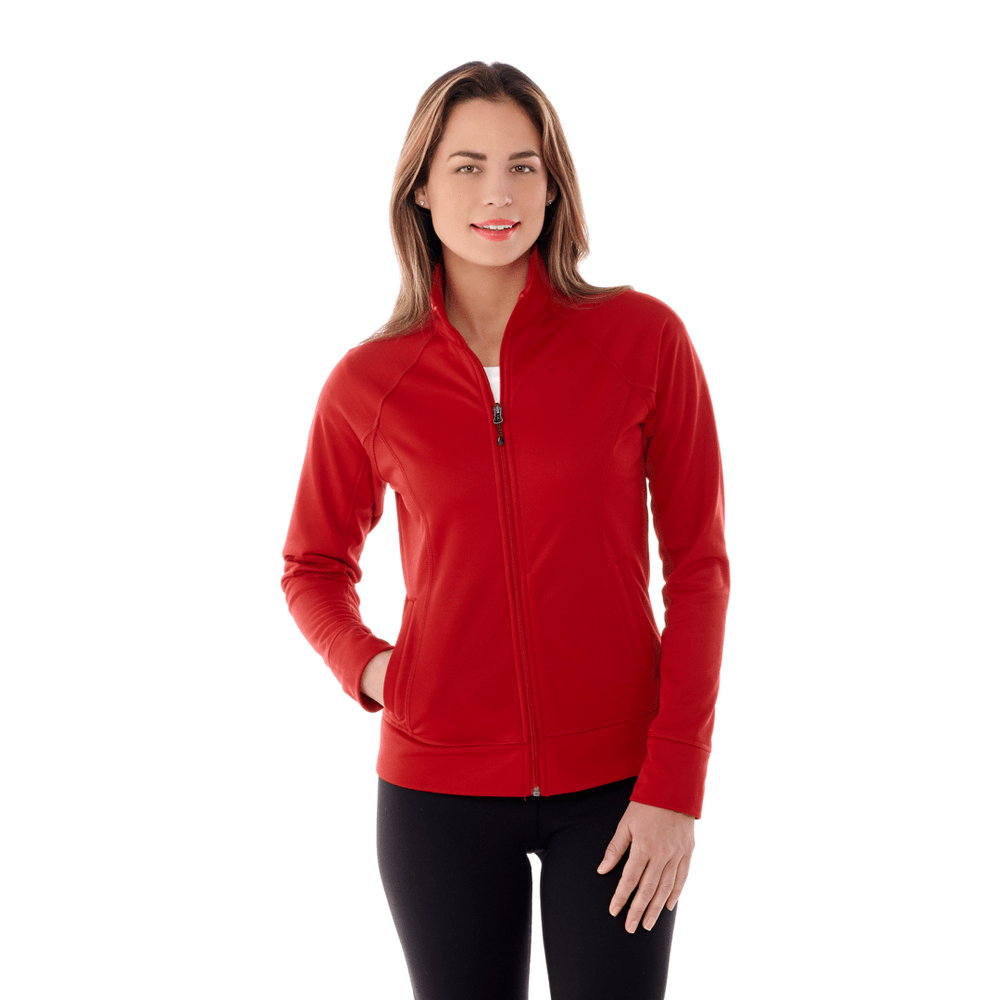 TM98117
Women's Okapi Knit Jacket
Config Order
Order Sample

This product is eligible to ship within 24 hours if ordered within cutoff time.
Configure Order
How fast do you need this?
How many do you need?
To request less than the minimum quantity, please reach out to your dedicated agent or at contact
info@CFDFpromo.com
If you place an order that qualifies for sample pricing, your fees will be adjusted after order placement.
How would you like your product?
Choose a decoration method
Select a decoration for your logo placement.
Where do you want it decorated?
Online virtuals are available for select decoration locations. Checkout is available for all decoration location options.
SubTotal: $
0.00
*Only free if your order is under $10
Order Sample
Sample orders under $10 are free
Select a color
---
Select a size
SubTotal: $
0.00
*Only free if your order is under $10
| | | | | | |
| --- | --- | --- | --- | --- | --- |
| Quantity | 12 | 125 | 250 | 350 | 450 |
| Net CAD$ | $75.19 | $72.62 | $63.79 | $56.51 | $54.60 |
| Quantity | 12 | 125 | 250 | 350 | 450 |
| Net CAD$ | $75.19 | $72.62 | $63.79 | $56.51 | $54.60 |
| Quantity | 12 | 125 | 250 | 350 | 450 |
| Net CAD$ | $75.19 | $72.62 | $63.79 | $56.51 | $54.60 |
| Quantity | 12 | 125 | 250 | 350 | 450 |
| Net CAD$ | $75.19 | $72.62 | $63.79 | $56.51 | $54.60 |
| Quantity | 12 | 125 | 250 | 350 | 450 |
| Net CAD$ | $75.19 | $72.62 | $63.79 | $56.51 | $54.60 |
| Quantity | 12 | 125 | 250 | 350 | 450 |
| Net CAD$ | $75.19 | $72.62 | $63.79 | $56.51 | $54.60 |
| Quantity | 12 | 125 | 250 | 350 | 450 |
| Net CAD$ | $75.19 | $72.62 | $63.79 | $56.51 | $54.60 |
| Quantity | 12 | 125 | 250 | 350 | 450 |
| Net CAD$ | $75.19 | $72.62 | $63.79 | $56.51 | $54.60 |
| Quantity | 12 | 125 | 250 | 350 | 450 |
| Net CAD$ | $75.19 | $72.62 | $63.79 | $56.51 | $54.60 |
| Quantity | 12 | 125 | 250 | 350 | 450 |
| Net CAD$ | $75.19 | $72.62 | $63.79 | $56.51 | $54.60 |
| Quantity | 12 | 125 | 250 | 350 | 450 |
| Net CAD$ | $75.19 | $72.62 | $63.79 | $56.51 | $54.60 |
| Quantity | 12 | 125 | 250 | 350 | 450 |
| Net CAD$ | $75.19 | $72.62 | $63.79 | $56.51 | $54.60 |
| Quantity | 12 | 125 | 250 | 350 | 450 |
| Net CAD$ | $75.19 | $72.62 | $63.79 | $56.51 | $54.60 |
| Quantity | 12 | 125 | 250 | 350 | 450 |
| Net CAD$ | $75.19 | $72.62 | $63.79 | $56.51 | $54.60 |
| Quantity | 12 | 125 | 250 | 350 | 450 |
| Net CAD$ | $75.19 | $72.62 | $63.79 | $56.51 | $54.60 |
| Quantity | 12 | 125 | 250 | 350 | 450 |
| Net CAD$ | $75.19 | $72.62 | $63.79 | $56.51 | $54.60 |
| Quantity | 12 | 125 | 250 | 350 | 450 |
| Net CAD$ | $75.19 | $72.62 | $63.79 | $56.51 | $54.60 |
| Quantity | 12 | 125 | 250 | 350 | 450 |
| Net CAD$ | $75.19 | $72.62 | $63.79 | $56.51 | $54.60 |
| Quantity | 12 | 125 | 250 | 350 | 450 |
| Net CAD$ | $75.19 | $72.62 | $63.79 | $56.51 | $54.60 |
| Quantity | 12 | 125 | 250 | 350 | 450 |
| Net CAD$ | $75.19 | $72.62 | $63.79 | $56.51 | $54.60 |
| Quantity | 12 | 125 | 250 | 350 | 450 |
| Net CAD$ | $75.19 | $72.62 | $63.79 | $56.51 | $54.60 |
| Quantity | 12 | 125 | 250 | 350 | 450 |
| Net CAD$ | $75.19 | $72.62 | $63.79 | $56.51 | $54.60 |
| Quantity | 12 | 125 | 250 | 350 | 450 |
| Net CAD$ | $75.19 | $72.62 | $63.79 | $56.51 | $54.60 |
| Quantity | 12 | 125 | 250 | 350 | 450 |
| Net CAD$ | $75.19 | $72.62 | $63.79 | $56.51 | $54.60 |
| Quantity | 12 | 125 | 250 | 350 | 450 |
| Net CAD$ | $75.19 | $72.62 | $63.79 | $56.51 | $54.60 |
| Quantity | 12 | 125 | 250 | 350 | 450 |
| Net CAD$ | $75.19 | $72.62 | $63.79 | $56.51 | $54.60 |
| Quantity | 12 | 125 | 250 | 350 | 450 |
| Net CAD$ | $75.19 | $72.62 | $63.79 | $56.51 | $54.60 |
| Quantity | 12 | 125 | 250 | 350 | 450 |
| Net CAD$ | $75.19 | $72.62 | $63.79 | $56.51 | $54.60 |
| Quantity | 12 | 125 | 250 | 350 | 450 |
| Net CAD$ | $75.19 | $72.62 | $63.79 | $56.51 | $54.60 |
| Quantity | 12 | 125 | 250 | 350 | 450 |
| Net CAD$ | $75.19 | $72.62 | $63.79 | $56.51 | $54.60 |
| Quantity | 12 | 125 | 250 | 350 | 450 |
| Net CAD$ | $75.19 | $72.62 | $63.79 | $56.51 | $54.60 |
| Quantity | 12 | 125 | 250 | 350 | 450 |
| Net CAD$ | $75.19 | $72.62 | $63.79 | $56.51 | $54.60 |
| Quantity | 12 | 125 | 250 | 350 | 450 |
| Net CAD$ | $75.19 | $72.62 | $63.79 | $56.51 | $54.60 |
| Quantity | 12 | 125 | 250 | 350 | 450 |
| Net CAD$ | $75.19 | $72.62 | $63.79 | $56.51 | $54.60 |
| Quantity | 12 | 125 | 250 | 350 | 450 |
| Net CAD$ | $75.19 | $72.62 | $63.79 | $56.51 | $54.60 |
| Quantity | 12 | 125 | 250 | 350 | 450 |
| Net CAD$ | $75.19 | $72.62 | $63.79 | $56.51 | $54.60 |
| Quantity | 12 | 125 | 250 | 350 | 450 |
| Net CAD$ | $75.19 | $72.62 | $63.79 | $56.51 | $54.60 |
| Quantity | 12 | 125 | 250 | 350 | 450 |
| Net CAD$ | $75.19 | $72.62 | $63.79 | $56.51 | $54.60 |
| Quantity | 12 | 125 | 250 | 350 | 450 |
| Net CAD$ | $75.19 | $72.62 | $63.79 | $56.51 | $54.60 |
| Quantity | 12 | 125 | 250 | 350 | 450 |
| Net CAD$ | $75.19 | $72.62 | $63.79 | $56.51 | $54.60 |
| Quantity | 12 | 125 | 250 | 350 | 450 |
| Net CAD$ | $75.19 | $72.62 | $63.79 | $56.51 | $54.60 |
| Quantity | 12 | 125 | 250 | 350 | 450 |
| Net CAD$ | $75.19 | $72.62 | $63.79 | $56.51 | $54.60 |
| Quantity | 12 | 125 | 250 | 350 | 450 |
| Net CAD$ | $75.19 | $72.62 | $63.79 | $56.51 | $54.60 |
| Quantity | 12 | 125 | 250 | 350 | 450 |
| Net CAD$ | $75.19 | $72.62 | $63.79 | $56.51 | $54.60 |
| Quantity | 12 | 125 | 250 | 350 | 450 |
| Net CAD$ | $75.19 | $72.62 | $63.79 | $56.51 | $54.60 |
| Quantity | 12 | 125 | 250 | 350 | 450 |
| Net CAD$ | $75.19 | $72.62 | $63.79 | $56.51 | $54.60 |
| Quantity | 12 | 125 | 250 | 350 | 450 |
| Net CAD$ | $75.19 | $72.62 | $63.79 | $56.51 | $54.60 |
| Quantity | 12 | 125 | 250 | 350 | 450 |
| Net CAD$ | $75.19 | $72.62 | $63.79 | $56.51 | $54.60 |
| Quantity | 12 | 125 | 250 | 350 | 450 |
| Net CAD$ | $75.19 | $72.62 | $63.79 | $56.51 | $54.60 |
| Quantity | 12 | 125 | 250 | 350 | 450 |
| Net CAD$ | $75.19 | $72.62 | $63.79 | $56.51 | $54.60 |
| Quantity | 12 | 125 | 250 | 350 | 450 |
| Net CAD$ | $75.19 | $72.62 | $63.79 | $56.51 | $54.60 |
| Quantity | 12 | 125 | 250 | 350 | 450 |
| Net CAD$ | $75.19 | $72.62 | $63.79 | $56.51 | $54.60 |
| | | | | | |
| --- | --- | --- | --- | --- | --- |
| Quantity | 1 | 125 | 250 | 350 | 450 |
| Net CAD$ | $65.49 | $63.26 | $55.58 | $49.23 | $47.55 |
| Quantity | 1 | 125 | 250 | 350 | 450 |
| Net CAD$ | $65.49 | $63.26 | $55.58 | $49.23 | $47.55 |
| Quantity | 1 | 125 | 250 | 350 | 450 |
| Net CAD$ | $65.49 | $63.26 | $55.58 | $49.23 | $47.55 |
| Quantity | 1 | 125 | 250 | 350 | 450 |
| Net CAD$ | $65.49 | $63.26 | $55.58 | $49.23 | $47.55 |
| Quantity | 1 | 125 | 250 | 350 | 450 |
| Net CAD$ | $65.49 | $63.26 | $55.58 | $49.23 | $47.55 |
| Quantity | 1 | 125 | 250 | 350 | 450 |
| Net CAD$ | $65.49 | $63.26 | $55.58 | $49.23 | $47.55 |
| Quantity | 1 | 125 | 250 | 350 | 450 |
| Net CAD$ | $65.49 | $63.26 | $55.58 | $49.23 | $47.55 |
| Quantity | 1 | 125 | 250 | 350 | 450 |
| Net CAD$ | $65.49 | $63.26 | $55.58 | $49.23 | $47.55 |
| Quantity | 1 | 125 | 250 | 350 | 450 |
| Net CAD$ | $65.49 | $63.26 | $55.58 | $49.23 | $47.55 |
| Quantity | 1 | 125 | 250 | 350 | 450 |
| Net CAD$ | $65.49 | $63.26 | $55.58 | $49.23 | $47.55 |
| Quantity | 1 | 125 | 250 | 350 | 450 |
| Net CAD$ | $65.49 | $63.26 | $55.58 | $49.23 | $47.55 |
| Quantity | 1 | 125 | 250 | 350 | 450 |
| Net CAD$ | $65.49 | $63.26 | $55.58 | $49.23 | $47.55 |
| Quantity | 1 | 125 | 250 | 350 | 450 |
| Net CAD$ | $65.49 | $63.26 | $55.58 | $49.23 | $47.55 |
| Quantity | 1 | 125 | 250 | 350 | 450 |
| Net CAD$ | $65.49 | $63.26 | $55.58 | $49.23 | $47.55 |
| Quantity | 1 | 125 | 250 | 350 | 450 |
| Net CAD$ | $65.49 | $63.26 | $55.58 | $49.23 | $47.55 |
| Quantity | 1 | 125 | 250 | 350 | 450 |
| Net CAD$ | $65.49 | $63.26 | $55.58 | $49.23 | $47.55 |
| Quantity | 1 | 125 | 250 | 350 | 450 |
| Net CAD$ | $65.49 | $63.26 | $55.58 | $49.23 | $47.55 |
| Quantity | 1 | 125 | 250 | 350 | 450 |
| Net CAD$ | $65.49 | $63.26 | $55.58 | $49.23 | $47.55 |
| Quantity | 1 | 125 | 250 | 350 | 450 |
| Net CAD$ | $65.49 | $63.26 | $55.58 | $49.23 | $47.55 |
| Quantity | 1 | 125 | 250 | 350 | 450 |
| Net CAD$ | $65.49 | $63.26 | $55.58 | $49.23 | $47.55 |
| Quantity | 1 | 125 | 250 | 350 | 450 |
| Net CAD$ | $65.49 | $63.26 | $55.58 | $49.23 | $47.55 |
| Quantity | 1 | 125 | 250 | 350 | 450 |
| Net CAD$ | $65.49 | $63.26 | $55.58 | $49.23 | $47.55 |
| Quantity | 1 | 125 | 250 | 350 | 450 |
| Net CAD$ | $65.49 | $63.26 | $55.58 | $49.23 | $47.55 |
| Quantity | 1 | 125 | 250 | 350 | 450 |
| Net CAD$ | $65.49 | $63.26 | $55.58 | $49.23 | $47.55 |
| Quantity | 1 | 125 | 250 | 350 | 450 |
| Net CAD$ | $65.49 | $63.26 | $55.58 | $49.23 | $47.55 |
| Quantity | 1 | 125 | 250 | 350 | 450 |
| Net CAD$ | $65.49 | $63.26 | $55.58 | $49.23 | $47.55 |
| Quantity | 1 | 125 | 250 | 350 | 450 |
| Net CAD$ | $65.49 | $63.26 | $55.58 | $49.23 | $47.55 |
| Quantity | 1 | 125 | 250 | 350 | 450 |
| Net CAD$ | $65.49 | $63.26 | $55.58 | $49.23 | $47.55 |
| Quantity | 1 | 125 | 250 | 350 | 450 |
| Net CAD$ | $65.49 | $63.26 | $55.58 | $49.23 | $47.55 |
| Quantity | 1 | 125 | 250 | 350 | 450 |
| Net CAD$ | $65.49 | $63.26 | $55.58 | $49.23 | $47.55 |
| Quantity | 1 | 125 | 250 | 350 | 450 |
| Net CAD$ | $65.49 | $63.26 | $55.58 | $49.23 | $47.55 |
| Quantity | 1 | 125 | 250 | 350 | 450 |
| Net CAD$ | $65.49 | $63.26 | $55.58 | $49.23 | $47.55 |
| Quantity | 1 | 125 | 250 | 350 | 450 |
| Net CAD$ | $65.49 | $63.26 | $55.58 | $49.23 | $47.55 |
| Quantity | 1 | 125 | 250 | 350 | 450 |
| Net CAD$ | $65.49 | $63.26 | $55.58 | $49.23 | $47.55 |
| Quantity | 1 | 125 | 250 | 350 | 450 |
| Net CAD$ | $65.49 | $63.26 | $55.58 | $49.23 | $47.55 |
| Quantity | 1 | 125 | 250 | 350 | 450 |
| Net CAD$ | $65.49 | $63.26 | $55.58 | $49.23 | $47.55 |
| Quantity | 1 | 125 | 250 | 350 | 450 |
| Net CAD$ | $65.49 | $63.26 | $55.58 | $49.23 | $47.55 |